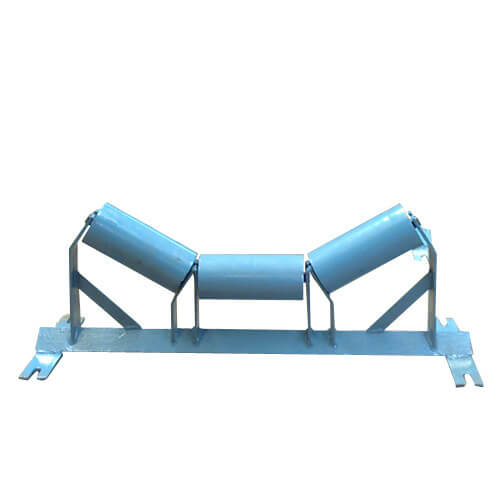 Quality Conveyor Carrying Idler Rolls Manufacturers India Origin: North America Made Trough Rollers Replacement

Belt conveyor carrying idlers rollers Schwaben Germany manufacturers trust HIC North America ma quality USA replacement to belt carrying idlers Espana manufacturers, conveyors rollers USA manufacturers, carrying idlers suppliers Taiwan, conveyors Ireland producers: conveyor belt rollers India, Switzerland, Canada suppliers.
Unparalleled HIC Universal Material Handling Conveyor Idlers Exported to Spain, North America, Switzerland, Italy, Scandinavia

• Troughing belt conveyor steel carrying idlers rollers having seize resistant bearings with frames as per drawings
• Impact rollers and conveyors Return idlers for belt conveyor-system used in docks, dams-infrastructure velopers
• Head Drum pulleys for materials handling equipment conveyor-belts drive
Quality Belt Carrying Idlers, No Discrepancy!
HIC Universal brand material handling equipment steel carrying rollers quality are manufactured with continual research and development, produced in ultra-morn plant located in India with top class morn machinery and testing equipments manned by dicated skilled workmen force superseding relevant BS, DIN, ISO quality standards.

Still searching for reliable carrying rollers ?
Please click links and probably you shall be making right cision.
Cinta Transportador Rodillos Fabricantes: Taiwán España EE.UU North America Fabricado Reemplazo

Cinta Transportador rodillos locos Schwaben Alemania, los fabricantes de la confianza de HIC North America calidad de América del reemplazo de rodillos de cintas transportador fabricantes de España, transportador de rodillos de los fabricantes de EE.UU., rodillos transportador proveedores de Taiwán, transportador de los productores de Irlanda: la cinta Transportador rodillos de la India- Hyderabad, Pune, Suiza, los proveedores de Canadá, Italia, Escandinavia.
Impecable Correas transportadors HIC Universal y Rodillos para el transporte exportado a España, América l Norte, Alemania, Suiza

• Troughing cinta transportador ociosos Rodillos acero resistentes a aprovechar tener rodamientos con marcos como por los dibujos
• Impacto y Rodillos transportadores Volver ociosos por cinta transportador en el sistema diques, presas, infraestructura los sarrolladores
• Cabeza tambor poleas para equipos manipulación materiales la unidad cintas transportadors
Calidad Rodillos Cinta transportador Ociosos, No hay problema !
HIC Universal marca el equipo manipulación materiales Rodillos acero se fabrican con la calidad continua y la investigación sarrollo, producido en ultra morna planta ubicada en la India, con maquinaria morna alta calidad equipos y ensayos a cargo los obreros cualificados dicados vigor sustituyendo a las BS, DIN, Normas calidad ISO.

Aún así la búsqueda los transportadores confiables Rodillos ?
Por favor, haga clic en los enlaces y que probablemente será la cisión correcta.
• Carrying rollers Manufacturers Specifications
• Carrier conveyor idlers Specs
• Impact rubber lagged ring idlers
• Belt conveyor Return rollers
• Belt Drum Pulleys specs
• Conveyor belts Manufacturers Specifications
• Conveyor Rollers manufacturers Specifications
• Carrying Belt Hawk Fasteners specs
• Manufacturing Machinery Testing Details
• Hic Quality Assurance
• Research and Development facility
• Carrying idlers Min. INFORMATION required
• Drum pulleys Min. INFORMATION required