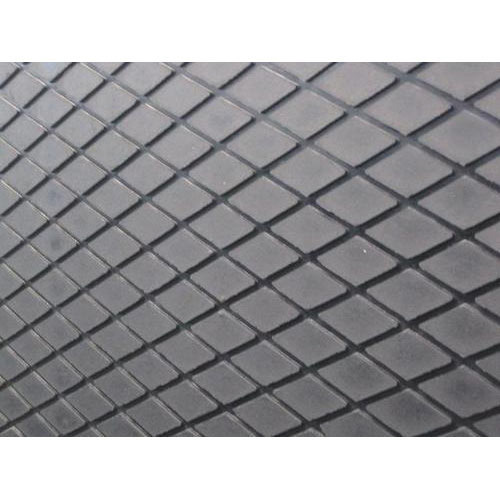 Rubber Lagging Conveyor Pulley Manufacturing Range of HIC Universal
Conveyor belt pulley lagging sheet manufactured of quality synthetic rubber neoprene or SBR rubber diamond grooved or plain finish made in India by HIC Universal superseding ISO 1629, DIN 53516, DIN 53479 quality standards.
Pulley lagging sheet manufactured Width and Length sizes 1 m x 2 m and 1.2 m x 2.4 m, Thickness MM 6.5, 8, 10, 12, 15, Finish Diamond or Plain, plain up to max 10 meter long, Wear factor 80 mm3 at 10N, T.S. 7~15 MPa, Elongation Min 300%, Color Black, Rubber grade Natural or FRAS or White Nitrile Food, Shore Hardness A 60 ± 5, 70 ± 5.
HIC Universal diamond pulley lagging rubber sheet are Original Choice by conveyor fabrication works and belt conveyor material handling systems manufacturers in India, Japan, Australia, South Africa, Canada, United States, Cuba North America, Argentina Latin America, Colombia South America, Netherlands Europe, Russia, Chile, Mexico, England UK, Iran, Saudi Arabia Middle East, Indonesia, Azerbaijan, Malaysia and supplied to other Asian countries.
Conveyor Belt Pulley Grip HIC Rubber Lagging
Classified under HS Code 4008
Diamond Grooved Rubber Lagging in sizes 1m x 2 m and 1.2 m x 2.4 m from 6.5 mm to 15mm thick
Plain Rubber Pulley Lagging in sizes 1m x 2 m and 1.2 m x 2.4 m from 6.5 mm to 15mm thick