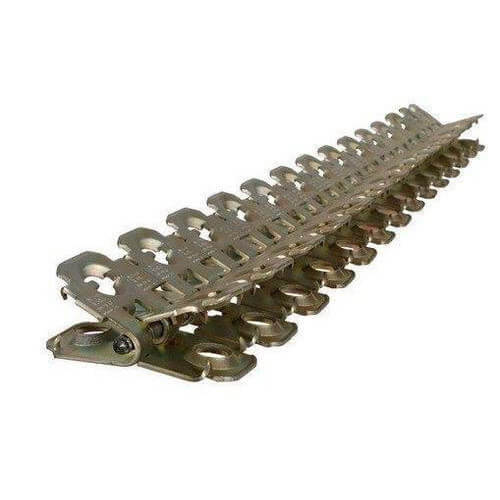 Staple Belt Fastener Manufacturers: HIC Universal
Staple belt fastener manufactured in single-piece strips having pre-inserted staples for easier installation used as metal fasteners for strong abrasion resistant industrial belt splice quick and easy installation up to 200 P.I.W. rating transporting sea food, cased stuffs, recycling, baggage handling and other light material handling application produced by HIC Universal India exporters of ready set staple belt lacing to Singapore, Mauritius, Thailand, Zimbabwe, Kenya, Nigeria, Algeria, USA, Turkey, UAE, Sri Lanka, Myanmar, Russia, Vietnam, UK, China, Japan, EU.
Galvanized Steel Ready Set Staple Belt Lacing Specification: HIC Universal

Manufacturers Suppliers of Ready set staple belt lacing produced by HIC Universal in 03 sizes to keep conveyor-belt downtime to a minimum ensuring long-lasting splice by simply fitting the fastener strip onto the belting end securing with the special installation jointing tool and then drive and finish set the pre-inserted staples manufactured in India located Delhi and Uttar Pradesh factories in steel fastener sizes RS62, RS125, RS187.
Galvanized steel, plated for rust and corrosion resistance as standard material or stainless steel SS304 food grade if specifically ordered is used by HIC Universal in manufacturing high tensile steel conveyor belt fastener product, fully tested as per international standards that covers full testing in well-equipped HIC's Testing Laboratory and stamped with identification coding.
Staple Belt Lacing Fastener's Test Certificate of HIC's Lab forwarded along-with the supplies.
Warranty: Manufacturer warrantees lacing fasteners to be free from manufacturing defects and shall replace or repair if found defective in workmanship within 1 year from the date of shipment.
Staple Belt Lacing Steel Fastener TECHNICAL SPECIFICATIONS: MADE IN INDIA * HIC
| | | | | |
| --- | --- | --- | --- | --- |
| STAPLE FASTENER SIZE | MIN PULLEY DIAMETER (MM) | KN/M MAX | BELT-THICKNESS (MM) | HINGE PIN DIAMETER (APPROX.) |
| RS62 | 50 | 17 | 1.5 to 3 | 2 |
| RS125 | 75 | 28 | 3 to 4.7 | 3.6 |
| RS187 | 102 | 35 | 4.7 to 6 | 5.2 |


• RS125- 1 Box contains 1200 mm length M/F-8 numbers strips
• RS187- 1 box contains 1500mm Length Male-Female- 8 numbers strips Equals 4 sets of jointing 1500mm Width belts
• Jointing Tool also manufactured