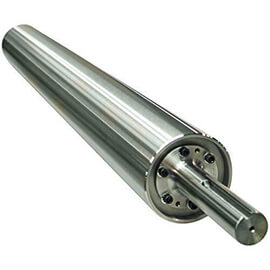 Conveyor Idlers Manufacturing Range of HIC Universal
Belt conveying system load carrying movement gets fulfilled using conveyor idler rollers made in India by HIC Universal superseding IS 8598, IS 9295, BS 970- En3B, CEMA- B, CEMA - C series quality standards.

Pipe roller conveyor idlers outer diameter is selected based on conveyor carrying capacity Tons per hour and corresponding belt width used.

Conveyor rollers standard pipe diameters MM of 76, 89, 101, 114, 127, 139, 152, 159, 165 mm sizes manufactured out of steel tube Class C, B, A of different thicknesses.
HIC Universal pipe conveyor rollers and conveyor idlers with frame are Original Choice by consultants and conveyor system bulk materials handling in India, Cuba, USA, China, Canada, Turkey, Germany, Argentina, Australia, Poland, Romania, Spain, Guatemala, Kazakhstan, Russia, South Africa, Namibia, Libya, Antigua, Panama, Taiwan, Myanmar, Philippines and supplied to other Asian countries.
Belt Conveyor Load Carrier HIC Pipe Roller
Carrying Idler (3/5 rolls) Belt Troughing up to 2400mm BW
Impact Idler with rubber rings Flat Belt Conveyor
Return Idler (1 roll) for Belt Returning
Self-Aligning Idler Carrying and Return
Transition Idler
Tracking Idler Roller as per specific requirements
Roller Idler Frame Bracket