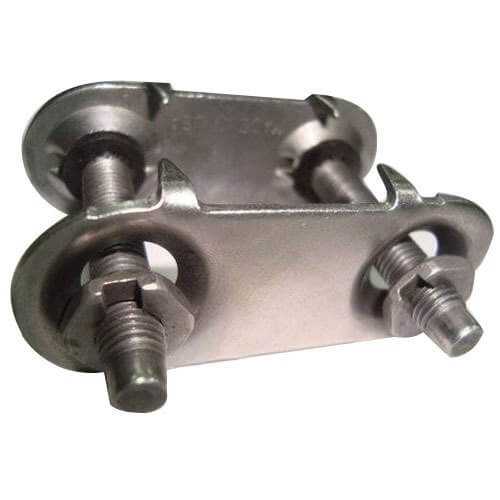 HIC South Africa Conveyor Belt Fastener Canada USA India Quality Bolts Fasteners Manufacturers Replacement
South Africa conveyor belt fasteners distributors trust HIC quality replacement to solid plate belt fastener Canada manufacturers, alligator type fastener USA producer, mechanical belt fasteners Canada manufacturer by belting fastener bolts suppliers in Namibia Botswana Africa, belt splicing mechanical conveyor belting-fastener Elevator bucket bolts importers of Africa buy from India exporter, HIC International Co.
Solid Plate Euro Alligator Type HIC Belt Bolt Fasteners Africa exports

HIC manufactures Belt Bolt Fasteners up to 25 mm thick belting sizes used for belt splicing of conveyor belt and bucket elevator beltings- crusher conveyor solid plate fastener Quebec Canada replacement, food-grains elevator euro bolt USA replacement, sea-food conveying system alligator type belt-splicing fastener Illinois USA replacement, aggregate conveyor system hawk belt fasteners Honduras America replacement, leather belting fasteners Mexico Central America replacement, mining conveyor system And grain elevator equipment manufacturing industries belt-joining bolt fastener of South Africa, North East West Africa.
Solid plate steel-fastener, euro bolt, alligator type fastener-system, staple setting plate-fasteners, alligator belt lacing fastener type, belt clipper, elevator bucket bolts produced in ultra-modern factory at New Delhi and UP-Ghaziabad ISO 9001 certified factories of India.
Exporters of HIC make UNIVERSAL brand belt-splice bolt fastener superseding relevant IS, BS, DIN quality standards belting fasteners to Bloemfontein SA, Windhoek, Maseru, Gaborone and other cities suppliers-importers-exporters of South Africa, Namibia, Lesotho, Botswana-Africa.
Conveyor Elevator Fastener Bolts Manufacturing Expertise of HIC India

Conveyor system manufacturers, bucket elevator equipment manufacturers and industries of South Africa, Namibia, Lesotho, Botswana of Africa trust HIC make Universal brand belting fasteners made in India manufactured of chamfered steel.
Conveyor belt fastener Hawk up to 25 mm thick belting splice mechanical fasteners crushers suppliers in Quebec Canada, Oklahoma USA, Auckland New Zealand, Ahmedabad Gujarat India.
Solid plate steel fastener H up to 25 mm thick belting splice mechanical fasteners suppliers in Houston Texas USA, Ontario Canada, Mumbai Maharashtra India.
Leather belting fastener L up to 8 mm thick belting splice mechanical fasteners suppliers in Kimberley South Africa, Monclova Mexico America, Bengaluru Karnataka India.
Incline hopper belting fastener Oval up to 10 mm thick belt-washers mechanical fastener suppliers in Wisconsin United States of America, San Luis Potosi Mexico, Ghaziabad UP India.
Bucket elevator bolt Euro up to 35 mm thick belting stainless steel bolt washers suppliers in Ontario Canada, Chimbote Peru South America, Ludhiana Punjab India.
Steel belt lacing Alligator type up to 8 mm thick belting fastener Packaged food conveyor suppliers in Yukon Canada, Louisiana USA, Panjim Goa India.
Staple pre-inserted alloy steel conveyor belt fastener RS up to 6 mm thick belting fasteners sea-food conveyor system suppliers in Hamilton Canada, Port Louis Mauritius Africa, Chennai Tamil Nadu India.
HIC Universal quality belt-fasteners are OEM preferred selection of material handling conveyor system manufacturers, bucket elevator equipment manufacturers, for belt fastening hooks trouble-free performance.