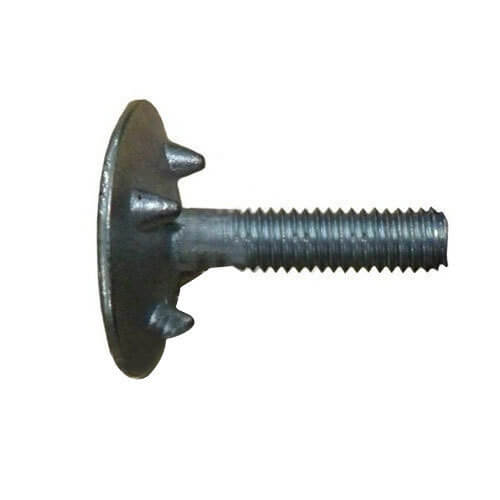 Euro Elevator Bolt Manufacturers: HIC Universal
Euro elevator bolt manufactured having a concave head and two lugs preventing rotation used as mechanical fasteners for pressed steel elevator buckets transporting food grains, alumina, foundry sand, wood chips and other vertical bulk material handling application as per DIN:15237 specifications produced by HIC Universal India exporters of euro bolts to Hungary, Korea, Ireland, Estonia, Netherland, Spain, Romania, Austria, New Zealand, UK, Turkey, USA, Singapore, Norway, Germany and other countries of Europe.
Bucket Elevator Euro Bolts Specification as per DIN 15237: HIC Universal

Manufacturers Suppliers of Bucket Elevator Euro Bolts produced by HIC Universal in 24 sizes to accommodate as attachment of pressed steel elevator buckets incorporating recessed bolt holes and the recessed area surrounding the bolt hole is meant for accommodating the similarly domed surface under the bolt head manufactured in India located Delhi and Uttar Pradesh factories from bolt sizes M6 to M12.
Large bolt head diameter, fully metric threaded, and zinc plated steel as standard material or stainless steel SS304 if specifically ordered is used by HIC Universal in manufacturing high tensile fastener bolt product, fully tested as per DIN international standards that covers full testing in well-equipped HIC's Testing Laboratory and stamped with identification coding.
Euro Bolt's Test Certificate of HIC's Lab forwarded along-with the supplies.
Warranty: Manufacturer warrantees elevator euro bolts to be free from manufacturing defects and shall replace or repair if found defective in workmanship within 1 year from the date of shipment.
* Also, manufactured Norway Elevator Bolts flat counter sunk head for recessed and flat back elevator bucket holes, Reference 70 Elevator Bolt that exceeds DIN 15237 with concave head & 4 Lugs that curbs rotation during tightening used for rubber belt jointing except not suited for use with flat back plastic buckets.
EURO Elevator Bolt as per DIN15237 TECHNICAL SPECIFICATIONS: MADE IN INDIA * HIC
| | | | | |
| --- | --- | --- | --- | --- |
| Bolt Size(mm) | Head Diameter Ø(mm) | Max. Torque(Nm) | Quantity Numbers per Package | Weight Approx. per Pack of 100(kg) |
| M6 x 20 | 21 | 8 | 100 | 0.97 |
| M6 x 25 | 21 | 8 | 100 | 1.04 |
| M6 x 30 | 21 | 8 | 100 | 1.07 |
| M7 x 20 | 23 | 13 | 100 | 1.34 |
| M7 x 25 | 23 | 13 | 100 | 1.47 |
| M7 x 30 | 23 | 13 | 100 | 1.61 |
| M7 x 35 | 23 | 13 | 100 | 1.75 |
| M8 x 20 | 30 | 19 | 100 | 2.17 |
| M8 x 25 | 30 | 19 | 100 | 2.26 |
| M8 x 30 | 30 | 19 | 100 | 2.46 |
| M8 x 35 | 30 | 19 | 100 | 2.59 |
| M8 x 40 | 30 | 19 | 100 | 2.73 |
| M8 x 45 | 30 | 19 | 100 | 2.86 |
| M8 x 50 | 30 | 19 | 100 | 2.98 |
| M10 x 25 | 35 | 38 | 100 | 3.76 |
| M10 x 30 | 35 | 38 | 100 | 3.99 |
| M10 x 35 | 35 | 38 | 100 | 4.20 |
| M10 x 40 | 35 | 38 | 100 | 4.45 |
| M10 x 45 | 35 | 38 | 100 | 4.74 |
| M10 x 50 | 35 | 38 | 100 | 5.03 |
| M12 x 40* | 42 | 66 | 100 | 6.68 |
| M12 x 50* | 42 | 66 | 100 | 7.47 |
| M12 x 60* | 42 | 66 | 100 | 8.30 |
| M12 x 70* | 42 | 66 | 100 | 9.26 |

* Stainless Steel Not Produced
- Installed Bolt Torque Rating Depends on Buckets and Belt Size
- Not Suitable for Flat Back Plastic Elevator Bucket