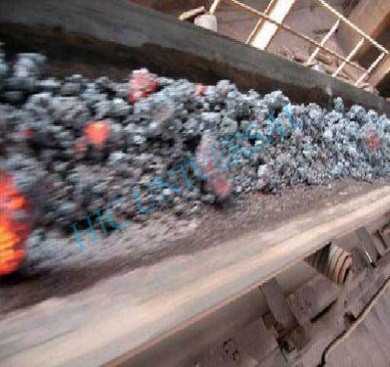 HIC India Coal Concrete Conveyor Belt Manufacturers: Nederland Made Conveyor System Conveying Belts Quality Replacement
Europa conveyor system rubber belt suppliers trust HIC manufacturers India quality conveying belts replacement to coal conveyor-belt Nederland manufacturers, concrete conveyor belts Sweden producers, luggage conveyor-belt Japan manufacturers, mining conveyor belts exporters in Netherlands India: pvc conveyor-belt, anti-abrasion ready-mix concrete rubber conveyor belts importers of Netherlands, Deutschland, Sweden, Luxembourg buy conveying system belt from India exporter, HIC International Co.

Unparalleled HIC Universal Rubber PVC Conveyor system Belts Exported to Japan, Turkey, Europa
• Anti-Abrasion rubber hic Coal conveyor belts Grade M24, N17 quality Nylon NN textile ply belt and EP textile carcass conveyor-belting manufactured up to 2000 mm Width with minimum rubber belt cover thickness of 3 mm top and 1.5 mm bottom and above, 3 ply to 8 ply up to 3000 kN/m belt max allowable tension rubber belts, for use in coal conveyors equipment, mining conveying system, shot blasting conveyor-application. Incline conveyors system Chevron conveyor-belts and Cleated conveyor-belts also manufactured for vertical transport applications.
• Heat Resistant Rubber hic Concrete conveyor belts Grade HR 120 degree C, Super HR150 degree C, hot temperature resistant quality ready-mix concrete rubber belt with textile carcass EP or NN fabric rubber conveyor-belting manufactured up to 2000 mm Width with minimum rubber belt cover thickness of 5 mm top and 2 mm bottom and above conveyor belts in Open Ends belts or Endless belts hot vulcanized diamond joints to requisite length sizes conveyor-belts, for use in mobile concrete plants, telescopic belt conveyors system application. Also, manufacturing Fire Resistant grade conveyor-belts, Oil Resistant grade conveyor-belts, Food grade conveying belts custom-made.
• Cut resistant PVC hic Luggage conveyor belts of 2 ply, 3 ply up to 7 mm thick pvc belting manufactured up to 3000 mm Width in black or green color pvc belts, for use in airport baggage handling system and other light duty conveying system application. Also, manufacturing PVC Food grade conveyor-belts of White color for sea-food processing conveying system, potato and vegetable handling conveying system, sugar handling system conveyors application.
• Conveyor System Rollers hic Belt rollers idlers types carrying idlers, return idlers, impact roller with rubber rings, self-aligning idlers with and without idler frames up to 2400 mm belt widths, manufactured for coal conveying system, concrete mixer conveying system, baggage handling conveying system application.

Wear-proof Quality Endless Conveyor-Belts and Belt Rollers, No Discrepancy !
Exporters of HIC make UNIVERSAL brand endless belting, rubber conveyor-belts, pvc conveyor belting, belt rollers idlers, superseding relevant IS, BS, DIN quality standards conveyor-belt and belt idler roller produced in ultra-modern factory at New Delhi and UP Ghaziabad ISO 9001 certified factories of India, coal conveying belt, concrete conveying belt, luggage conveyor belt and belt rollers to Nijkerk Netherlands, Goteborg Sweden, Koschenberg Germany, Lier Antwerpen Belgie, Kenzingen Baden Deutschland, Luxembourg, Noida UP India, Kolkata Bengal India, Navi Mumbai Maharashtra India, Chennai Tamil Nadu India, Vadodara Gujarat India, New Delhi India, and other cities material handling system suppliers, importers, exporters of India, Netherlands, Japan, Sweden, Belgium, Europa.
Still searching for reliable belt conveyors system belting and idlers ?
Please click links and probably you shall be making right decision.
Qualité Shot Blast Courroies transporteuses Fabricants: Nederland Fabriqué Ceintures de transport et de remplacement

HIC Universal fabricants de bandes transporteuses, les bandes anti-chaleur, de convoyeurs à bandes remplacé Nederland Fabriqué Ceintures de transport, par les revendeurs et importateurs du Maroc, Tunisie, Egypte, Côte d'Ivoire, en Inde, au moyen de
transmission.
HIC universel sans précédent Shot Blast convoyeur et de la lutte anti-chaleur bandes à l'exportation vers le Maroc, la Tunisie, l'Egypte, la Côte d'Ivoire
• Shot Blast Courroies transporteuses en caoutchouc dans les pièces forgées, des outils à main de fabrication de convoyeurs à tambour de souffle
• Anti-chaleur hic bandes de nylon-polyester textile courroies transporteuses utilisées dans les chemins de fer de distribution du matériel
• Grenaillage de feuilles en caoutchouc durci pour les plans peening en 5mm-12mm d'épaisseur de la feuille de 1m x 2m taille

Qualité textile des courroies transporteuses, aucune anomalie!
HIC marque universelle des courroies transporteuses en caoutchouc et de feuilles de qualité sont fabriqués avec la recherche continue et développement, réalisé en ultra-moderne situé en Inde de première classe avec des machines modernes et essais des équipements dédiés par des ouvriers qualifiés vigueur annule et remplace les BS, DIN, Normes de qualité ISO.
Toujours à la recherche de la fiabilité des courroies transporteuses en caoutchouc?
S'il vous plaît cliquer sur des liens et probablement que vous serez en droit de décision
• Conveyor-belts Manufacturers Specifications
• Shot blast conveyor-belts range
• Anti-Heat Bands
• Superior HR conveyor-belts range
• Rice-mill Elevator belts range
• Conveyor-Idlers manufacturers Specifications
• Shot Blasting rubber sheets manufacturers Specifications
• Manufacturing Machinery Testing details
• Hic Quality Assurance
• Research and development facility
• Conveyor-belts Min.INFORMATION required
• Rubber Sheets Min. INFORMATION require